Renovation boom
Across the globe, the sound of power tools, dozers, excavators and lawnmowers are being heard more than ever. The reason? Home renovations have boomed during the pandemic.
With many of us home-bound because of lockdowns and thus using our homes differently, and with household savings at all-time highs, the focus has turned to home improvement and refurbishment projects in many parts of the world.
Australians have been spending a record billion dollars are month on renovations, some of which has been fuelled by the Federal Government's HomeBuilder stimulus package, which provided a $25,000 grant for "substantial renovations" to eligible applicants. In the US, spending on home improvements and repairs in 2020 grew more than 3% to $420 billion, as households modified living spaces for work, school and leisure. And in the UK, British consumers have spent £110.3 billion on home improvements since the start of the pandemic, an increase of nearly 30% year-on-year.
According to research from online home renovations platform, Houzz, in 2020 and 2021 there was a major upswing of home-improvement projects in both Australia and the US. In the US, the Houzz & Home Survey showed home renovation spend grew 15% in the year to June 2021 to a median $15,000, while in Australia it grew 5% to a median $21,000. And in the UK, a survey by NatWest revealed that over three-in-five homeowners would consider remortgaging to undertake home improvement projects. It's a similar story across Europe and Asia, with visits to online home improvement websites and apps spiking.
"While the pandemic caused initial concern for the residential renovation industry, many homeowners finally had the time and financial means to move forward with long awaited projects in the past year," said Marine Sargsyan, Houzz senior economist. "This pent up demand, along with long-standing market fundamentals empower homeowners to continue investing in their current homes."
Across both the US and Australia, the Houzz & Home surveys revealed some major trends including:
Outdoor projects heat up: While interior room renovations remain the most common projects, more and more renovating homeowners are enhancing their outdoor areas. In the US, exterior upgrades such as decks and porches or balconies increased in popularity in 2020, with homeowners investing 25% more in deck and porch upgrades compared with 2019. And in Australia, exterior upgrades, such as fences, patios or terraces and decks, also increased in popularity in 2020.
Kitchen projects: Kitchen projects are the most popular among renovating homeowners, with homeowners in the US investing in major remodels of large kitchens, while Aussies are changing the layout of their kitchens, upgrading plumbing, electrical or HVAC systems, replacing all appliances, and making other significant improvements (e.g., new benchtops, cabinets, taps and fixtures).
Gen Xers step up their spend: While Baby Boomers (ages 55-74) have historically led in renovation spend, it's been the Gen Xers (ages 40-54) that have been increasing their spend at a greater rate.
"Lockdowns and the sudden adoption of remote and hybrid working by much of the world's workforce have certainly motivated many homeowners to finally undertake the home improvement projects they've been meaning to do for months – even years," says Stephane Thomas, Director of MAD Design, which has a portfolio of brands including EcoSmart Fire (ethanol, gas and electric fireplaces), HEATSCOPE™ radiant heaters, and Blinde Design outdoor furniture and accessories. "People are nesting like never before and renovation and refurbishment projects are booming – and while spending may ease back a little with restrictions easing, it's a trend that's likely to outlast the pandemic."
Thomas says MAD Design has experienced a significant uptick in sales and enquiries, not to mention website hits, for its heating solutions, outdoor furniture and accessories. "COVID-19 has redefined the way we are using our homes, and that's reflected in the demand for furniture, heating and accessories to 'zhuzh' up their living environments," he says.
Thomas adds that he's noticed a number of distinct design trends including:
Demand for outdoor furniture
A move to the sofa (according to virtual shopping platform HERO, the leading sales category across the homewares sector has been sofas and armchairs, followed closely by stools, benches and ottomans)
Outdoor heating
Creative installations of ethanol-fuelled EcoSmart Fires
Outdoor furniture
Low maintenance patio and garden/outdoor furniture is a major trend that has been driven by the pandemic but is set to be an enduring one. "Householders are now more focused on revamping their outdoor space with simple but durable pieces of furniture that are easy to move and reshuffle," says Thomas. "Their aim is to create hassle-free, cosy spaces.
"And seasonality is now more important than ever, which has certainly helped spur the increase in sales of outdoor furniture and heating. That's why it's important to look for products that are weather-resistant and are created specifically for outdoor use. Comfort is also crucial!"
Blinde Design's collection of furniture and accessories has been specially created to enhance the look and liveability of outdoor and indoor spaces. Every piece is created from strong, hard-wearing and weather-resistant materials and fabrics, including natural teak, Sunbrella® fabrics, hi-tech Fluid™ Concrete, and black steel, which can withstand the outdoor environment and wear and tear of everyday use.
"We created this collection to meet the growing desire for furniture that is comfortable, looks great and caters to our lifestyle needs. It has been designed for long-lasting quality," says Thomas. "Comfort-wise, all our generous-size armchairs, sturdy bar stools and multi-configuration modular sofas have soft supportive seating and optional scatter cushions."
The collection includes modular sofas, armchairs, dining chairs, bar stools, love seats, concrete coffee tables, planters and teak bar carts.
Sofas
After the initial surge in demand for ergonomic chairs and desks in 2020, consumers soon turned their attention to furniture like sofas, storage solutions and home decor. In India, furniture makers reported triple-digital growth in sales, and a Style Safe report on the most-searched home-related keywords found that 'sofa' was one of those at the top of the list.
"The sofa is regaining importance as a place of not just lounging but also working, sleeping, perhaps eating, and more," interiors specialist Gemma Riberti said in an Architectural Digest article. "In general, spurred by the work-from-home lifestyle shift, seats previously designed for the office are now addressing the residential market by embracing softer looks via upholstery, cushions, and padding."
It's a trend that's gathering pace, with many people spending money on furniture because they've not been able to go on holidays. "Families have been spending more time at home and want nicer surroundings," says Thomas. "Functional, comfortable, good-looking sofas are in huge demand – and modular, or sectional, sofas are particularly on-trend."
Blinde Design has a range of modular sofas that combine modern styling, robust construction, and comfortable, high-performance fabric – ideal for indoor and outdoor use.
"We know how popular modular sofas are – with celebrities and regular homeowners alike. Which is why we created the Blinde Design range," says Thomas. "Our sectional sofas are designed for today's living, with clean lines, gentle curves, a low-back design and soft natural hues giving each sofa module a contemporary look and enabling them to harmonise with any décor style and colour palette. They also create a seamless transition between interior spaces and alfresco areas like the patio, balcony or terrace."
Versatility is at the core of the Blinde Design Relax and Connect ranges. Multiple configurations offer the freedom to easily create almost any size or shape sofa to suit your space or occasion. They are also lightweight and simply click into position.
Constructed from strong and durable materials, including coated aluminium frames and all-weather Sunbrella® fabric, the Blinde Design modular sofas are designed to stand the test of time – even in harsh outdoor environments.
Blinde Design modular sofas also have a generous low-slung minimalist design, which acts as both a design feature and an anchor for large spaces. There are also left and right modules, a corner module, a single module, and an ottoman. "In just minutes, you can create one large or two smaller rectangular couches, an L-shape or U-shape sofa, or a chaise sectional sofa. As every home is different in size and layout, and our lifestyle and entertaining needs can change from season to season, our modular sofas are the smart solution," adds Thomas.
Outdoor heating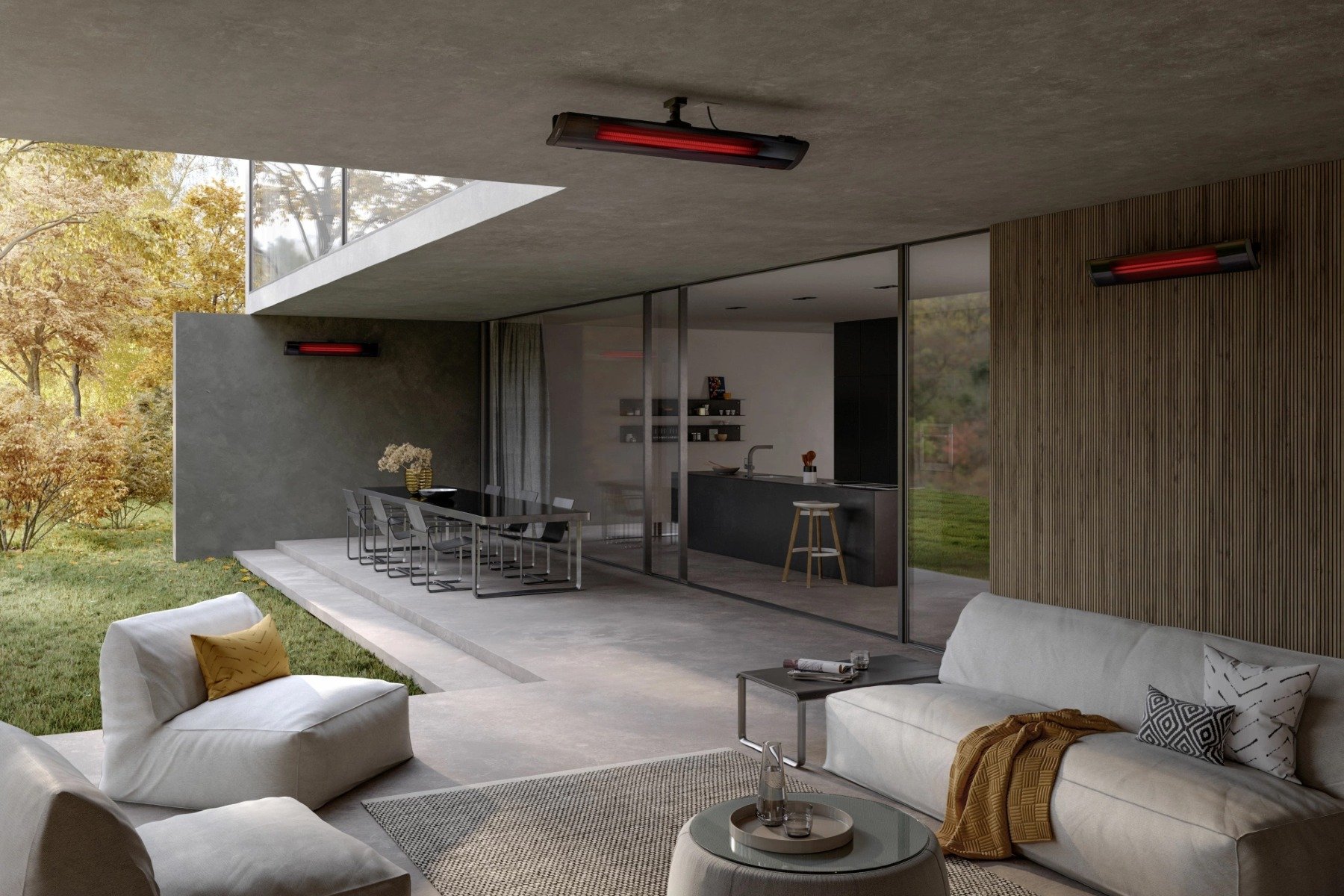 Thomas says that during 2020 and 2021 there was a spike in homeowners wanting to install or upgrade their heating for outdoor spaces. "We have certainly experienced an increase in demand for and enquiries about our range of heating solutions for alfresco spaces, because consumers want to use their outdoor living spaces year-round. And we offer a myriad of outdoor heating solutions – from our ethanol and gas-fuelled EcoSmart Fires*, to our HEATSCOPE® infrared radiant heaters," he says.
"We predict that people will continue to transform their patios into inviting outdoor-indoor rooms. The emphasis is on making these spaces comfortable, warm and attractive by incorporating functional and stylish outdoor furniture and heating."
The EcoSmart Fire collection includes a comprehensive and versatile range of options, depending on whether a portable or built-in fireplace solution is preferred. "Our vent-free, Flex ethanol fireplace inserts, not to mention our collection of ethanol burners, are free from traditional installation restrictions, which provides multiple design options for homeowners, builders, architects and interior designers," explains Thomas. "I love seeing how our products are used to create outdoor living havens!"
Also in demand are EcoSmart's multi-functional EcoSmart fire table, fully-resolved fire pits, and fire pit kits (for customised Fire Pits), which beautifully complement outdoor living spaces. Available in environmentally-friendly ethanol or gas* options (LPG for portable Fire Tables and Fire Pits, natural gas for permanent, built-in fireplaces), EcoSmart Fire's heating solutions enable absolute versatility and design freedom.
MAD Design has also recently added HEATSCOPE® radiant heaters to its collection. "A good patio heater is a popular investment, and infrared radiant heating is one of the best solutions," says Thomas. "Infrared is radiant heat, the most basic form of heating known to man. Put simply, it's the direct transfer of heat from the heater to the object – you and the room – without heating the air in between. It provides a comfortable heat and helps reduce operating costs."
HEATSCOPE® infrared radiant heaters were built with beauty and functionality in mind. They're also fast heating and highly efficient: up to 94 per cent of the energy used is turned into ambient heat and transferred directly to nearby people and surfaces. Unlike conventional gas and electric heaters, which produce uncomfortable high heat and a bright light, HEATSCOPE® heaters emit an even, comfortable heat, with a subtle glow.
And Thomas says a pairing of EcoSmart Fire solutions and a HEATSCOPE™ radiant heater gives "the best of both worlds".
"Combining an eco-friendly, clean-burning, multi-functional with an award-winning HEATSCOPE® radiant heater means you enjoy the warmth, visual appeal and ambiance of gently flickering flames and a consistent soft sun-like warmth throughout your patio. This is because radiant heaters discretely and quietly heat people and surfaces on the patio, not the surrounding air, which also makes them effective and energy efficient," he says.
How to choose an outdoor heater
"While most people know heating is essential for creating comfortable and inviting patios, terraces and garden living areas, many find it difficult knowing which heater to invest in," Thomas says.
He advises that when searching for an outdoor heating solution you should consider:
Whether you want a portable or permanent, built-in fireplace or heater
Fuel choice (e.g., eco-friendly ethanol, natural gas, LPG gas)
Size and style
Material (e.g., stone, metal, concrete or a mixture of different materials)
The size of your outdoor space
What you want to achieve (e.g., ambiance, trans-seasonal use of the space, a source of lighting)
Where it's going to be placed (e.g., on a patio, in a courtyard, on a balcony/terrace, garden area, by a swimming pool etc).
Local regulations (e.g., restrictions for burning wood)
Cost
Creative installations
"When it comes to creativity, our range of EcoSmart ethanol-fuelled fires have sparked the imagination of thousands of original indoor and outdoor fireplace installations," explains Thomas. "It's particularly interesting to read the Houzz research that shows kitchen projects are hugely popular in these pandemic times. Over the years, we have worked with numerous architects, designers and builders to create purpose-built fireplaces that are incorporated into kitchens – for example, set into island benches, to help divide a space, or create a distinct focal point.
"Flexibility is keynote with our zero-clearance Flex fireplace inserts; they can be simply and cleverly incorporated into tailored settings because they are powered by clean-burning ethanol. And with kitchens evolving into multi-functional spaces and again becoming the absolute heart of the home, people want to make them a real focal and gathering point."
Stephane Thomas, director MAD Design Group
A case in point is a kitchen renovation undertaken for Guy Grossi, a well-known Australian chef, restaurateur and media personality. Architect Nicholas Murray was asked to install a fireplace in the kitchen, but a traditional one wasn't feasible due to the amount of glazing in the newly extended home. "I chose EcoSmart Fire because we obviously couldn't have a fireplace that needed fluing under the kitchen island," Murray explains.
The result is an indoor fire that not only defines the kitchen area and creates a design statement, but it also enhances the ambience and warmth of the dining area, which the kitchen opens out onto. "I like using fire in this way, to define areas of the home," Murray says. "We used to work mainly with traditional fireplaces, but the flexibility of a flue-less fireplace is very appealing when it comes to designing a space."
Another inspired kitchen example is the elongated fire built into a 'Grigio Carnico' marble block in a designer home on Sovereign Island, in Queensland. Designed by Enigma Interiors' Lee Hardcastle, named 2014 National Kitchen Designer of the Year, the bespoke fire features an EcoSmart XL900 burner. "The EcoSmart Fire was actually the easiest part to install!" says Hardcastle.
EcoSmart's Fireplace Inserts eliminate the need for a chimney or flue and they prevent common fire pollutants such as soot, smoke and ash from harming the environment. And the EcoSmart Fire collection has been thoroughly tested against a number of global standards. They are UL Listed in the USA, certified for the EU and UK in accordance with EN16647, and they satisfy the ACCC Safety Mandate for Australia.
*fuel options vary depending on country regulations.