The concrete furniture trend
Concrete has been used in architectural design since the Ancient Roman Times. And in recent years the concrete trend (also referred to as the cement trend) has become a major interior décor craze – not to mention investment.
Today, concrete outdoor and indoor furniture graces the homes of countless celebrities and style leaders. Concrete tables, planters, fireplaces and other accoutrements feature prominently in lifestyle magazines and social media posts, which means it's hard to ignore this new and increasingly popular trend.
And as more people discover how concrete furniture and accessories can create and enhance any look – contemporary, industrial, country, rustic, and coastal – and give any indoor or outdoor space enduring style while also catering to the demands of busy lives, this trend will continue to go from strength to strength.
Stephane Thomas, Director of MAD Design, which uses concrete for various products within the group's Blinde Design and EcoSmart Fire ranges, says: "Concrete's robust nature and minimalist style is perfect for interior and exterior environments. We are increasingly using concrete for many of our fire pits, fire tables, coffee tables, stools and planters. It's durable, striking and can be beautifully paired with other textures. It can really make a room 'pop'.
"Concrete furniture and accessories can modernise a traditional aesthetic, enhance a contemporary interior or exterior design scheme, or provide an urban, industrial style to any style of room."
The ultimate in form and function
With their inherent strength and beautiful natural hues, tactile smooth finish, clean lines and elegant curves, concrete furniture adds both style and function to any home, hospitality or commercial space including restaurants, cafes, hotels, clubs, offices, galleries and studios.
A piece of concrete furniture like a Blinde Design Fluid™ Concrete coffee table or cluster of sculptural concrete plant pots never fails to make an eye-catching statement or create a focal point. The combination of simple yet sophisticated design and powerful presence makes us love concrete furniture even more.
Not all concrete furniture is made equal
Although all concrete furniture is made from cement, the type of cement and sealant used on the finished product determine its weight, durability and impact on the environment.
Green cement has the strength of the most commonly used Portland cement, however, it creates concrete furniture that is considerably eco-friendlier and relatively lightweight. Concrete furniture that is lighter in weight is more practical, as it's easier to manoeuvre and reposition.
Blinde Design's range of concrete furniture and accessories, and a myriad of EcoSmart Fire Tables and Fire Pits are crafted from lightweight Fluid™ Concrete, a specially-created green cement that is more durable and environmentally friendly than regular concrete, both in the raw materials it uses and in the manufacturing process. Each piece is also coated in a special sealant that enhances its ability to withstand the rigours of everyday use and outdoor environments.
"Concrete furniture has come a long way from the slab-style benches in public parks and transport hubs to become sought-after designer pieces that deliver enduring style, functionality and versatility."
Stephane Thomas, Director MAD Design Group
Top 7 reasons why concrete furniture is on-trend
1. Durable and hard-wearing
Concrete furniture doesn't scratch or chip as easily as timber, glass or stainless-steel furniture and it takes a very heavy object hitting the edge to chip it. Concrete furniture does, however, vary in its ability to withstand impact, stains and the outdoor elements, which is why it's essential to choose pieces that have a strong, durable composition and an effective sealant or coating, like Blinde Design's Fluid™ Concrete tables, stools and planters, and EcoSmart's ventless, environmentally-friendly fire tables and fire pits, which are designed for residential and hospitality settings.
As concrete furniture can support very heavy items, a concrete coffee table, like Blinde Design's Fluid Concrete Bloc range of rectangular and square concrete coffee tables, can conveniently double as a bench, creating much-needed additional seating when entertaining.
"Concrete is one of the strongest, most durable man-made products. While new technology has improved on the traditional basic concretes, concrete structures built over 2000 years ago by the Romans – such as The Colosseum, The Pantheon, bath houses and aqueducts – are still standing today and a testament to concrete's exceptional strength and durability," says Stephane.
2. Versatility
"Concrete works incredibly well outdoors – for example, on covered or exposed patios, terraces, in courtyards, or in your backyard – but the beauty of this material is that it's also superb when used inside," says Stephane. "We've created concrete furniture, accessories and fireplaces that are equally at home in an alfresco or interior environment. They're designed to create an attractive, seamless flow between different spaces and enhance the look and liveability of any home. Concrete provides amazing flexibility.
"However, it's important to note that not all concrete furniture is 'made equal', as some have surfaces that are more weather resistant than others."
All Blinde Design Fluid™ Concrete coffee tables, stools and plant pots, and EcoSmart Fire Tables and Fire Pits are coated in a special sealant that makes them highly resistant to moisture, UV rays, and extremes in cold and heat, including frost, snow and ice, which prevents them from staining, warping, cracking, expanding and fading. And they won't blow over in a strong wind. They also don't have any seams that can harbour moisture and lead to mould, dirt and grime that can affect the look and feel of each piece.
3. Design freedom
With its uniform smooth finish, natural hues and clean lines, concrete furniture looks good on its own and when paired with any style of furnishings to create the look you desire. And its earthy natural hues complement timbers, stone, tiles and man-made composites, like terrazzo style concrete floors, and create an inviting cohesive space.
Interior designers are using concrete furniture and accessories to create many looks including:
modern minimalist looks with pared back styling and accessories
industrial style by pairing with metal accents like steel chairs and rough and unfinished timbers
retro '70s look by adding dark timbers, terracotta and slate tiles, sheepskins, cow hide rugs, and indoor plants
country or rustic style with raw timber, check and/or floral fabric cushions, vases with flowers from the garden
"Concrete furniture perfectly complements timbers. For example, by pairing a concrete coffee table or concrete outdoor fireplace with a Blinde Design teak upholstered armchair, you can create a beautifully harmonious look. Adding concrete furniture is also an effective way to break up the 'wood on wood' look that can result from having timber floors and timber furniture," explains Stephane.
4. Eco-friendly
The intrinsic qualities of concrete furniture – strength and durability – make it long lasting and therefore an eco-friendly choice as it doesn't need to be replaced every few years.
However, not all concrete furniture has an environmentally-friendly manufacturing process like that used for Blinde Design concrete furniture and accessories and EcoSmart fire tables and fire pits. These ranges are made from the bespoke eco-friendly green concrete called Fluid™ Concrete, which uses natural recycled materials and doesn't produce carbon during its manufacture. In fact, this 'green' concrete uses 95% recycled natural materials that absorb CO² and produces 90% less pollutants than traditional Portland cement during its production. Everything made from Fluid™ Concrete is also 100% recyclable and releases minimal greenhouse gases.
5. Easy to maintain
Most concrete furniture simply requires a wipe over with mild soap and water to keep clean. For concrete furniture that is super easy to clean, choose brands with no cracks or seams that harbour dust and grim, like Blinde Design Fluid™ Concrete coffee tables, stools and plant pots, and EcoSmart Fire Tables and Fire Pits.
6. A smart investment
As concrete furniture is durable and strong, it's long-lasting, keeps it good looks, and rarely requires repairing, which make it a cost-smart investment. Blinde Design's and EcoSmart Fires concrete ranges are exceptionally hardwearing and have a durable surface that doesn't flake, peel or crack and can withstand extreme weather conditions and UV exposure, which means they look good for years and years.
Concrete furniture is affordable and accessible designer furniture
Although it is gracing the homes and workspaces of the rich and famous, concrete furniture is more affordable than many other designer pieces and is becoming more widely available. Adding just one Blinde Design Fluid™ Concrete coffee table or an EcoSmart Fire Table or Fire Pit gives any indoor or outdoor space a designer style.
Why Fluid™ concrete stands out above the rest
All Blinde Design concrete coffee tables, stools and planters, and EcoSmart Fire's vent-free, portable, concrete Fire Tables and Fire Pits are crafted using Fluid™ Concrete Technology.
MAD Design developed Fluid™ Concrete Technology to create concrete furniture and accessories that are strong, durable and lighter in weight than the commonly used Portland concrete. These qualities make every piece of Fluid™ Concrete outdoor furniture exceptionally practical and functional – and built to last.
The benefits of Fluid™ concrete technology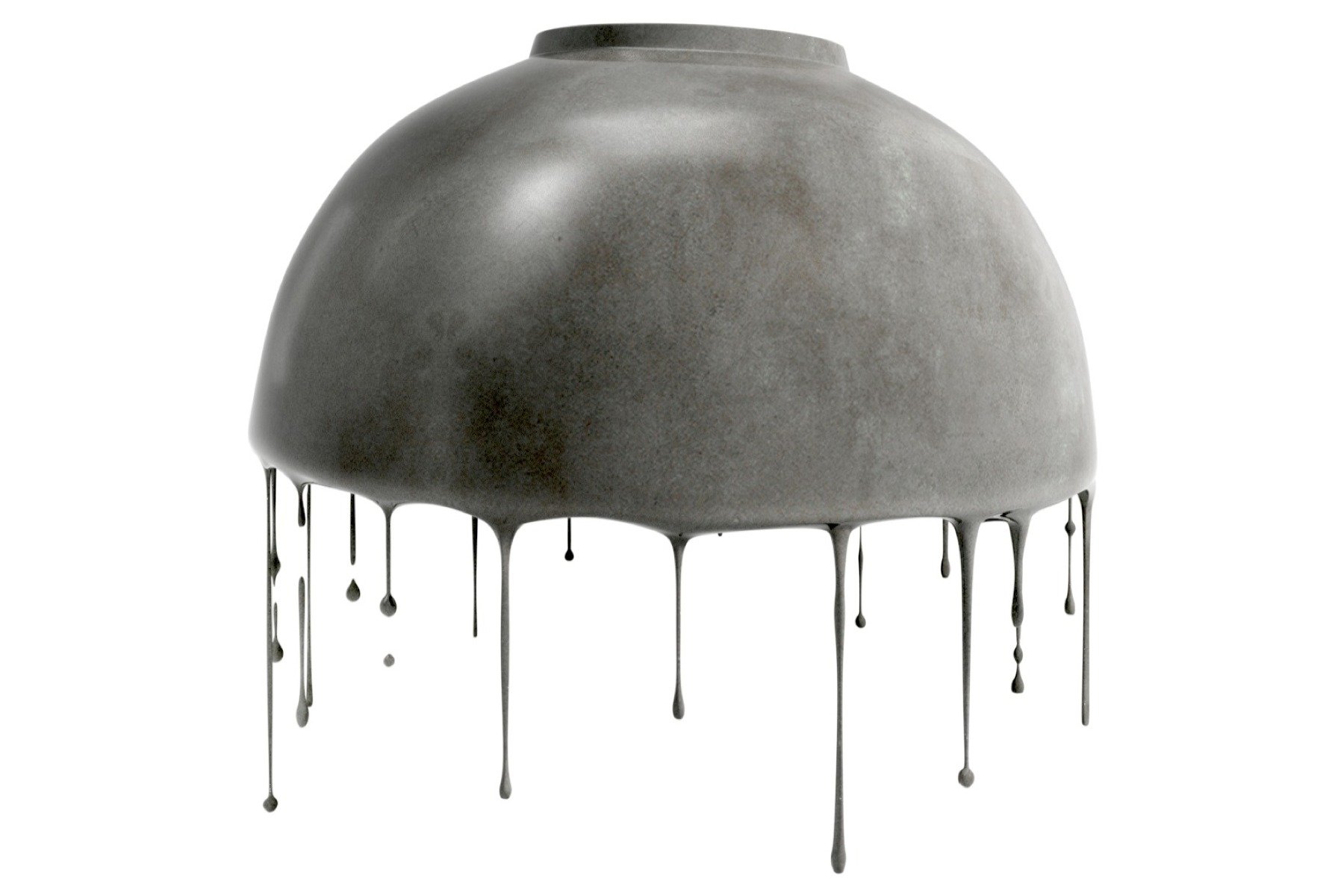 Eco-friendly: Made from a combination of green cement and 95% recycled natural materials that absorb CO2 during the curing process, our composites are 100% recyclable and release minimal greenhouse gas emissions.
Non-toxic: Free from harmful chemicals, substances and materials like asbestos, formaldehyde, silica, carcinogens, heavy metal salts, radiation, organic solvents and oils.
Stain Resistant: Rigorous testing confirms the surface is impervious to ethanol, wine, vinegar, oil, mustard, tomato ketchup, salt, soy, bleach, espresso coffee, window cleaner, and more. (Turmeric should be avoided)
Environment Resistant: Fluid™ concrete is resistant to water, fire, insects, termites, mold and mildew. Fully cured, non-hydraulic concrete does not retain water, meaning it is resistant to freezing and thawing.
Lightweight: Robust yet lightweight, which means it's easy to move each piece of concrete furniture from room to room, or from indoors to outdoors.
Seamless Construction: The products are free of join lines, making each piece more attractive and easier to clean.
Durable Surface: Lasts longer than traditional composites, creating less waste and reduced need to repair or replace your investment pieces. It's also impact resistant.
Colour consistent: The hue is consistent from one piece of concrete furniture to the next, which is vital when buying multiple pieces of Fluid™ Concrete furniture.
Easy to clean and maintain: Simply wipe over with water and a gentle soap; use car wax polish twice a year to nourish and protect it and keep it looking like new.