Flex 68BY Bay Fireplace Insert
Enjoy an alluring flame from any angle you look at it.
The Bay Fireplace Insert is designed for single room installation and features three open sides that enable the hypnotic flame to be viewed from the front and both left and right sides, providing an alluring focal point from multiple vantage points.
The Flex Bay fireboxes are ideal for commercial spaces like restaurants, bars and cafes, and residential settings where a stunning centrepiece is needed.
The clean lines and 'all flame' configuration of the Flex 68BY means the entire viewing area is dedicated to the eye-catching flame, creating a harmonious blend of traditional style and contemporary design.
The longest of the XL Burner series, the XL1200 delivers a stunning linear flame. This elongated burner can heat up to 700ft2 and provides the ideal bioethanol fire for commercial and hospitality spaces such as open plan restaurants and bars.
Each burner holds 2.6 gallons of fuel, and can deliver a stunning flame for up to 14 hours.
O-TL Listed in accordance with UL 1370.
Configure & Buy
Buy online and get it delivered to your door.
Key Features
Application
Indoor or outdoor single room application. With three open sides, view the flame from multiple vantage points.
Colours
Available in black, firebox comes with stainless steel burners and decorative Black Glass Charcoal.
No gas or electricity
No gas, no electricity, no chimney, no venting or external vent cap. 4 fewer General Contractors.
Clean burning
All the fuel is housed within Flex's self-contained burner so you don't have to run a gas line or electric wires through your walls. And because e-NRG Bioethanol is clean burning, you don't need a flue or a chimney
Zero clearance
Self-contained, zero clearance construction allows your Flex fireplace to be framed into wood or metal studs, providing installation freedom and flexibility for builders.
Quick and easy assembly
Requiring virtually no assembly, Flex Fireboxes are designed to be placed into the desired location, safely secured into position, and operated immediately.
Rust proof
Zinc sealed steel construction powder coated with super hi-temp black paint prevents rusting so all fireplaces can be used both indoors or outdoors.
Luxurious finish
Available in a timeless black finish, Flex Fireboxes come with stainless steel burners and black glass charcoal.
Wind screen
Included integrated windscreen sits flush behind frame.
Tested world wide
Our collection has been thoroughly tested against a number of global standards and is O-TL Listed in accordance with UL 1370 in the USA, certified in accordance with EN16647 in Europe and the UK, and satisfies the ACCC Safety Mandate for Australia.
Technical Specifications
Construction
Weight

228lb [104kg]

Model Dimensions

in [mm]

W 71.3in [1812mm]

D 14.4in [365mm]

H 31.8in [807mm]

Viewing Area

in [mm]

W 68.1in [1730mm]

D 13.4in [340mm]

H 19.8in [502mm]

Materials

Mild Steel & Toughened Glass

Colours
Accessories
Includes everything you need to easily operate and protect your investment for many years to come.
Fuel Efficiency
Thermal Output
15290 BTU/h
4.5 kW 17 MJ/h
* These values are indicative only and may vary depending on the model purchased, installation environment, and the composition of the e-NRG bioethanol sourced in each country.
What is bioethanol fuel?
Bioethanol (also known as methylated spirits or simply ethanol) is a form of renewable energy. It's a clear, colourless liquid that's commonly made from fermenting the sugar and starch components of plant by-products like sugarcane and grain crops.
How to install a TV or AV equipment above an ethanol fireplace?
This design can be achieved as long as the TV is protected. You have 3 possible solutions:
Solution 1: The TV needs a non-combustible mantel/ledge to act as a heat shield
Solution 2: The TV needs to be recessed in a niche
Solution 3: The TV needs to sit back off the level of the flame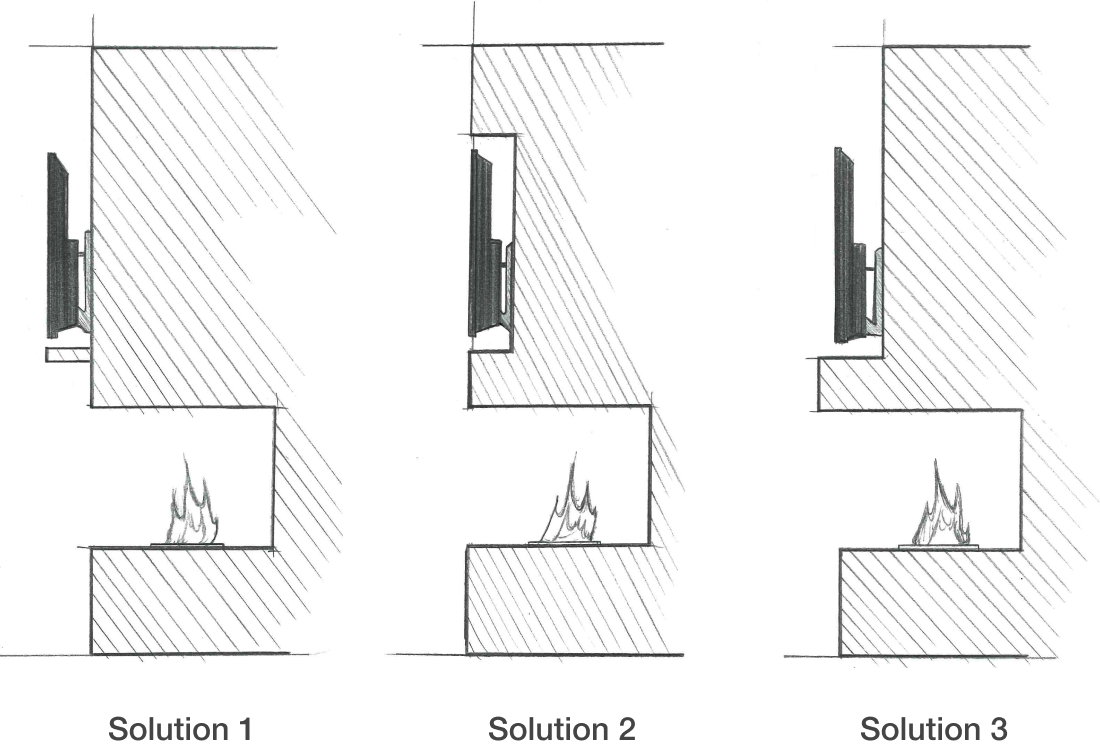 What is a bioethanol fireplace?
A Bioethanol fireplace is an open fireplace that is fueled by bioethanol. A real flame is produced by the lighting of bioethanol, with a by-product being heat in the process. It is a fireplace that needs no flue for exhausting emissions, no utilities such as electricity or gas connection, and it uses a sustainable fuel source.
Do I need to service my ethanol fireplace in any way?
Yes, normal maintenance and care is very important! Instructions are included in the Installation, Operating and Maintenance Manual supplied with your EcoSmart Fire product.
Are ethanol fireplaces good for the environment?
EcoSmart Fire's ethanol fireplace burners and fireplace inserts, when paired with our e-NRG bioethanol fuel are clean burning with the only byproduct being heat, steam and carbon dioxide (the same stuff we exhale). Unlike gas fireplace inserts and wood burning fireplace inserts, EcoSmart Fire's ethanol fireplaces do not produce messy pollutants like soot, smoke, and ash.
What is the difference between gel and EcoSmart Fire's ethanol fireplaces?
There are key differences between gel fireplaces and ethanol fireplaces in terms of operation and performance. Gel fireplaces are operated by inserting and lighting tin cans filled with gel. The cans act as the burner mechanism. Gel fireplaces do not produce a long coherent flame as known from ethanol fireplaces and can be difficult to extinguish. EcoSmart Fire's ethanol fireplaces use a clean burning liquid fuel made with fermented plants. The fuel is housed in a ethanol burner that allows for safe and easy operation. Ethanol fireplaces produce a beautiful, vibrant dancing flame. Gel fuel should never be used within an ethanol fireplace.
Why use bioethanol?
Bioethanol, a renewable energy, is the cleanest and most efficient fuel on the market, which means there are no emissions and no soot or ash to clean up.
Do EcoSmart Fire ethanol fireplaces give off any fumes or gases?
Bioethanol fuel is made of fermented plants like sugarcane or corn and is essentially a liquid alcohol. To safely make "de-natured" and unfit for consumption, substances have been added. The burning of these substances may cause a slight smell upon initial lighting and when the flame is extinguished – similar to when you blow out a candle. Clean burning and eco-friendly, ethanol fuel releases heat, carbon dioxide (the same stuff we exhale) and steam.
How Can We
Help?
Step-by-step guidance to find the right solution for your needs, trade professional benefits, and ongoing support before and after your purchase.
Live Chat
Project Assistance

From product selection, to material sourcing, and project reviews, our team is here to help.

Dedicated Support

Our unparalleled support and versatile product range makes designing with fire simpler than ever.

1-on-1 Screenshare

Can't make it to our showroom? Book an online consultation with our team of specialists.

Business Programs

Smart pricing, personalised support and unparalleled creative freedom.

Exclusive Pricing

Enjoy exclusive discounts across our entire range of fireplaces and fire pits.