It's probably no surprise that the biggest share of a household's energy use is, on average, apportioned to heating and cooling. And it can make a significant contribution to greenhouse gas emissions. Which is why saving energy is vital for your wallet and the environment.
To prevent high energy bills, it's important we keep our homes as energy efficient as possible – and reduce our carbon footprint. When it comes to heating, it's worth exploring the myriad of energy-efficient and eco-friendly heating options available that can save you money and are kinder to the environment. And it's worth looking into the various heating solutions and their different, stylish designs, smart technologies and fuel types, providing greater convenience, flexibility and creative freedom – all the while helping reduce your power bills.
Ethanol Fireplaces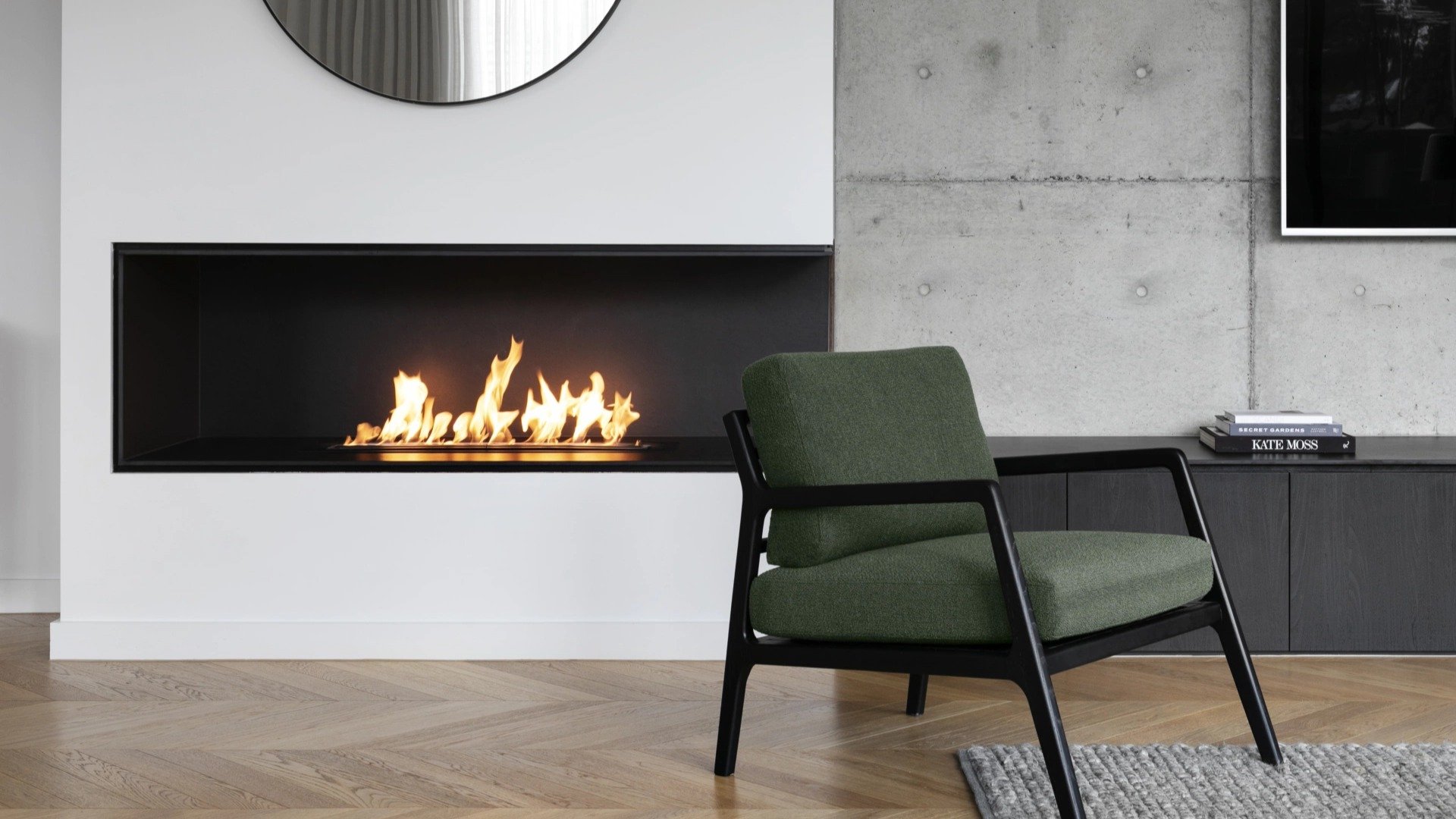 Natural flames, clean air, design freedom
They've been around for nearly 20 years and have gained huge popularity as more and more designers, householders and hospitality/commercial operators alike discover the many benefits of ethanol-fuelled fireplaces.
Ethanol (also known as bioethanol) is a liquid bio-fuel, a renewable, clean-burning energy source that's made from natural ingredients. It's created by fermenting the sugar and starch of plant by-products (e.g., sugarcane, corn and grain). When it's burned, ethanol doesn't create smoke or harmful emissions – what you get are beautiful, natural flames. In addition, as they're ventless, ethanol fireplaces don't require a chimney or vent, which means the warmth from the fire stays in the room, underscoring them as an energy-efficient option.
A leading ethanol fireplace brand is EcoSmart Fire, which has been a pioneer of this category of heating since 2004.
Stephane Thomas, the creator of EcoSmart Fires, says ethanol fireplaces are fast becoming a popular alternative to wood-burning heaters, particularly with strengthened emissions standards and the greater focus on the environment.
"And with EcoSmart Fires, you don't need to compromise functionality," Thomas says. "They're energy-efficient, stylish, easy to maintain and they provide design freedom to create an indoor or outdoor fireplace with ease. They also provide a stunning focal point, where people can gather around."
Top energy-efficient benefits of EcoSmart's ethanol fireplaces:
they are fuelled by environmentally-friendly, clean-burning e-NRG bioethanol, the cleanest, most efficient liquid ethanol fuel on the market
they don't require a chimney or vent, nor connection to gas or electricity, which means the heat stays in the room rather than escaping up a flue
ethanol fires will heat, on average, 20m²-60m² (depending on the model), with thermal outputs ranging from 2.5kW to 5.99kW
burn times, on average, range from 6 - 14 hours, depending on the model
flame regulation: easy, purposed designed flame controls allow you to regulate the amount of heat being generated, and therefore the amount of fuel consumed. The result is a highly economical and efficient burner
the cost of running an ethanol fireplace depends on the size of the EcoSmart Fire burner and the external environment. As a guide, it costs as low as $1.50 per hour to operate an ethanol fireplace.
Design flexibility
EcoSmart Fire's bioethanol fireplaces have long been the choice of designers, architects, builders, homeowners and hospitality and commercial operators around the world. And the vast range of installations are testament to the versatility of the models within the Collection.
"We have worked with a large number of design professionals, observed the types of installations they have created, and also listened to what they're seeking to help them satisfy the design needs of their clients," says Thomas. "It's why we continue to further develop and expand our range of EcoSmart Flex Fireplace range of fireplace inserts, enabling an unlimited number of installations. These models provide ventless, zero-clearance models to create unique and stunning fireplaces anywhere within an indoor and outdoor space."
e-NRG: the longest burning ethanol fuel
Not all eco-friendly ethanol fuels are the same – in composition, quality and delivery mode. Like all ethanol liquid fuels, e-NRG bioethanol is a renewable fuel type made from natural by products including the sugar and starch from plants. However, unlike other ethanol fuels, it has been specially formulated from high quality ingredients to produce a vibrant orange flame, provide the longest burning time, and make it the cleanest liquid ethanol on the market. It has been specially formulated for use in ventless ethanol fireplaces.
And because clean-burning e-NRG requires no venting, it is a highly efficient fuel source. It means you don't lose heat up a chimney or flue. It's also supported by an operational procedure to ensure it's used in the safest way. e-NRG produces no harmful emissions, just heat, steam and carbon dioxide, which is re-absorbed by plants.
Gas Fireplaces
Real-look flames, cost-efficiency, easy maintenance
More and more energy-conscious consumers are driving the trend of using gas fireplaces to provide zone heating for their living spaces.
High-efficiency gas fireplaces are more efficient than wood-burning fireplaces – and they create a warm and inviting ambiance, keep the air pleasantly clean with their clean-burning, smoke-free flames, and offer everyday convenience, because they don't require refilling with fuel, a supply of wood nor the time to build a decent fire. Gas fires are also typically a very cost-effective option, as they can heat a sizeable area – and different zones – saving you a significant amount on your energy bills.
There's also great flexibility in placement, plus they're also practically maintenance free, which means more time enjoying the warm glow of your fire.
EcoSmart Fire's collection includes a range of UL/ULC Listed gas fireplaces* for outdoor settings - from Fire Pits, DIY Fire Pit Kits (for customised installations) to Fire Tables – that have the in-built flexibility to adjust the heat output. There are two options to choose from*:
Natural gas, which provides the lowest cost of operation and doesn't require any refuelling. They offer a high heat output and the flexibility to adjust the height of the flame. And operating them is easy – they feature a push-button ignition. This option is for permanent, built-in fireplace installations, and a certified plumber is required to install it.
Liquid Propane Gas: fuelled by readily available LPG, the installation of EcoSmart's LP fires is simple, and they're easily operated by a battery-powered push button ignition and offer the flexibility to relocate your fire feature.
Electric Fireplaces
Versatile, efficient, convenient
Electric fireplaces are one of the most efficient ways to heat rooms faster and more efficiently than wood-burning fireplaces – and they're a zero-emission heat source.
With heat and 'flames' at the touch of a button, they are also a convenient way to give any home – including apartments and condominiums – the look and warmth of a fireplace. The LED bulb also stays cool to the touch because it produces approximately 90% less heat than an incandescent bulb. And convenience starts with installation, as electric fireplaces don't need venting, thus they don't require a chimney or connection to gas.
EcoSmart Fire's Electric Series* provides builders, architects, designers and homeowners with a realistic flame solution – and they can be easily installed in residential and commercial spaces at a fraction of the operating costs when compared* to wood fireplaces. Plus, you don't have the messy soot, smoke or ash associated with wood fires.
As with all of the EcoSmart Fire range of fireplace solutions, flexibility is an integral part of the electric series. The built-in, flush mounted design enables absolute design freedom and installation flexibility, and the sleek lines provide a captivating focal point that provide warmth and ambiance to indoor settings – from homes to hotel lobbies, restaurants to retirement homes.
Key features and benefits include:
there's no chimney or vent for heat to escape
they use long-life LED lamps – which use less energy than a 100w bulb – to create the flickering 'flames'
unlike central heating, they enable you to 'zone heat', which means you only heat the rooms you are using and don't waste energy or money heating those you don't
high-tech LED touch screen is mountable to the wall, providing a range of features allowing you to adjust heat levels
the remote control convenience allows you to instantly light the fireplace, adjust the heat and change from orange to blue flames – all at the simple press of a button
zero clearance design enables your fireplace to be framed into wood or metal studs, underlining the installation freedom of this series.
low maintenance: You don't have to source, chop and lug indoors suitable wood, fiddle with kindling to light the flame, regularly tend to the fire or clean away soot and ash after every fire
safety: a low-energy LED powered flame and glass safety screen remain cool to the touch, making them a safe heating option for children and pets.
Electric Radiant Heaters
Sun-like warmth indoors and out
Electric radiant heaters are designed to heat you directly – similar to the warmth of sunlight. They're an exceptionally energy efficient and effective way to heat any interior space or outdoor area like patios, courtyards and terraces, as they heat surfaces and objects and not the air, which can simply blow away. And because they don't require a chimney, vent or connection to gas, they are a cost-smart heating option.
HEATSCOPE® radiant heaters are a highly energy-efficient solution, both in the type of heat they create and how they use electricity. The type of heat is radiant heat, which quietly creates a sun-like warmth and subtle ambient light, using invisible infrared light that gently warms surfaces and objects including people (rather than the air) evenly across a wide area.
"With a HEATSCOPE electric heater, you create a warm and inviting environment across your entire space and don't waste money heating the air, which remains pleasantly cool, and clean," says Thomas.
HEATSCOPE radiant heaters also use electricity efficiently, with their unique technology that converts over 90% of input electricity directly into radiant heat – and they can reduce energy usage during operation by cutting off one of the elements.
Key features and benefits of HEATSCOPE electric radiant heaters:
fast heat at the touch of a button: maximum heat output is achieved in seconds
durable and weather-resistant materials that have an Ingress Protection (IP) rating of IP65 (HEATSCOPE® Pure) for protection against splash-water and wind
wall and ceiling positioning, which frees up floor space, removes potential tripping hazards, and keeps them out of reach of children and pets, making them a safer choice
ideal solution for busy parts of the home like the kitchen and bathrooms and commercial premises like offices, restaurants and cafes, as they are easy to operate, low maintenance and positioned safely and conveniently out of the way on the wall or ceiling
quiet and discrete: above-eye level position, smooth and sleek low-profile design and quiet operation makes them an attractive and unobtrusive heating option.
3 options: the Red Dot Design Award winner Pure 3000W; Vision 3200W; and Spot 2800W
The Perfect Combination: HEATSCOPE® radiant heaters and EcoSmart fireplaces
An electric HEATSCOPE® radiant heater paired with an EcoSmart Fire ethanol fireplace is the ideal solution for efficiently creating a warm and inviting ambiance and enduring style throughout outdoor and indoor spaces – whether residential, commercial or hospitality.
And as we're now using our outdoor spaces even more than ever, this effective heating combination transforms any patio, courtyard, and terrace into a comfortable and beautiful sanctuary in which to relax, entertain, and enjoy alfresco meals and drinks when the day and the weather becomes cooler.
"This pairing ensures everyone stays warm and comfortable. While a HEATSCOPE® radiant heater discretely warms everyone in your room or patio, a fireplace creates an eye-catching element and enticing ambience with its flickering golden flames and stylish design that never fails to draw friends and family together," explains Thomas. "Together, they provide a practical, functional, convenient, efficient and beautiful heating and design solution."
Traditional wood-burning fireplaces
Real flames, more maintenance, lower energy-efficiency
Like ethanol and gas fireplaces, wood fireplaces produce real, golden flames that create an inviting ambiance, while their chimney, mantel and hearth act as eye-catching design elements that make an enduring style statement.
However, unlike clean-burning and eco-friendly ethanol and gas, wood-burning fireplaces emit smoke, which contributes to pollution and greenhouse gases. And they can send out hot embers and sparks. They also require more maintenance than gas or ethanol, and they create soot and ash that needs to be cleared out before the next fire can be created.
Another difference between these heating options is that EcoSmart's ethanol and gas-fuelled fireplaces can be lit instantly, while creating a fire in a wood fireplace takes more time and effort.
"With a wood-burning fireplace you need to regularly source and store suitable wood and kindling and it takes skill and time to build and maintain a decent fire, which means your room stays colder for longer. Needing to take time out to create a fire and add wood and stoke while it's alight can be a challenge when you're busy entertaining, cooking or running a busy restaurant, café or bar," says Thomas.
Another consideration when choosing a fireplace are your local regulations relating to wood-burning fires, as some cities and states prohibit the burning of wood, particularly outdoors during summer or year-round, to reduce pollution and carbon emissions and the bushfires. With a clean-burning EcoSmart ethanol or gas fireplaces, however, you can still enjoy real natural flames outdoors throughout the year while remaining kinder to the environment.
Transforming Wood Fireplaces and indoor gas fires into Energy-Efficient, Eco-Friendly Fireplaces
EcoSmart Fireplace Grates make transforming a traditional wood fireplace into a contemporary, environmentally-friendly and energy-efficient fireplace easy.
They're designed for effortless, seamless fireplace conversion and to complement and reinvigorate traditional, conventional hearths.
"Our Fireplace Grates are powered by e-NRG ethanol, which means they're ideal for reviving older, disused fireplaces or to create new, modern and energy-efficient fireplaces."
Stephane Thomas, CEO MAD Design Group
"Unlike wood fires, they don't need a chimney to vent harmful gases," explains Thomas.
"Our Grate models are also ideal for transforming indoor gas fireplaces. You can achieve a beautiful, lively clean 'green' flame, which is much more inviting than the dull flame of an indoor gas fire - plus it won't leave you feeling dry. A real flame and ambiance - the perfect marriage."
Made from durable Fluid™ Concrete, there are three different models and sizes within the Grate Series, providing even greater flexibility, depending on the setting, size of the architectural environment and preferred style of flame. This includes the compact Grate 18, the smallest in the Series, which features a round AB8 Burner; the Grate 30, with an elongated XL500 burner; and the Grate 36, featuring an XL700 burner, which also provides a stretched flame.
Why converting your fireplace makes great sense:
safer than wood: bioethanol fireplace grates are clean burning and they don't produce any smoke, soot or flying embers
no gas or electricity: all the ethanol fuel is housed within the self-contained burner
stress-free installation: EcoSmart's Fireplace Grate Series are self-contained; no flashing, roof work or plumbing is required for installation
easily maintained: ethanol fireplaces don't leave any carbon residue, making them easy to keep clean
Disclaimers
*Fuel options vary depending on country regulations.
**BTU (British Thermal Unit) – a form of measurement that measures energy
***Suitable for installation into existing masonry settings only after a licensed plumber has disconnected the existing gas supply.